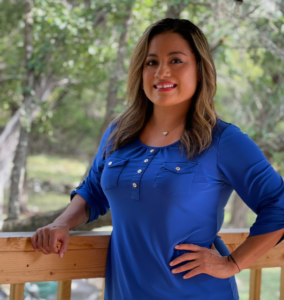 Blanca Ortiz, Client Services Manager | 512-246-4246 | blanca.ortiz@starry.org
Blanca Ortiz is the Client Services Manager at STARRY. Blanca received her associate's in Criminal Justice and is currently attending Sam Houston University. Blanca previously worked at a non-profit agency serving and assisting victims of family violence, sexual assault, child abuse, and human trafficking. Blanca is trained as an expert on strangulation and has worked closely with local police departments and hospitals in order to collaborate to better assist victims of crime. She has been serving on the Central Texas Domestic Minor Sex Trafficking Roundtable for five years and worked as a CSEY advocate as a part of the Governors Sex Trafficking Team. Blanca is trained as a facilitator for the Not A Number Curriculum for youth, which is a five-module curriculum designed to teach youth how to protect themselves from human trafficking and exploitation. Blanca has trained local fire departments, law enforcement officials, and local school staff on human trafficking and how to respond to youth.
Blanca lives in Temple with her two daughters. She has a dog, cat, and chickens. When she is not at work or school, you can find her on the softball field, eating wings, or enjoying time with her daughters.