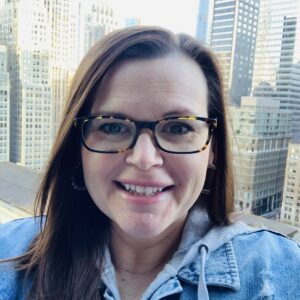 Cari Latimer, MA, MSW, Waco FAYS Team Supervisor
Cari Latimer is STARRY's Waco Team Supervisor. Cari received her Master's in Social Work from the University of Texas – Arlington, and is pursuing her LMSW and LCSW. She also holds a Master of Arts in Christian Education from Dallas Theological Seminary and a Bachelor's degree in Elementary Education from Texas A&M – Commerce.
Cari has more than 15 years of nonprofit experience serving children and families and providing case management, program management, and training to a variety of populations. Cari is a TBRI® Practitioner as well as a trainer for Bridges Out of Poverty, Safe Kids Worldwide, and the American Red Cross.
Cari started at STARRY in 2023 as an MSW Intern and Family Support Specialist at the Waco office before transitioning to her role as the Team Supervisor. Cari is passionate about helping others find healing and hope, while building skills that allow them to move forward and thrive.
Cari enjoys reading, painting, and baking in her free time and is convinced that coffee is essential to life. Cari volunteers as a mentor and resource navigator at Christian Women's Job Corps in Waco where she lives with her husband and their little herd of dogs.