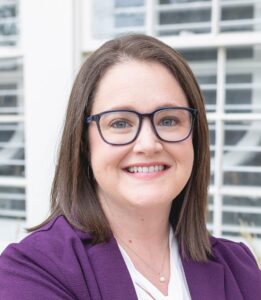 Carmen Geske is the Director of Operations with STARRY, Inc.  Carmen attended Baylor University and received her Bachelor's of Science in Education and Texas Christian University where she earned a Master's in Education in Counseling.  Carmen has worked for over 7 years in non-profit services.
Carmen started working at STARRY in 2019 as Crisis Intervention Specialist.  During her time at STARRY Carmen worked to create the Client Services Department that unified the approach to client care within the agency.  Carmen worked as the Client Services Manager for two years where she supervised intake services and the 24/7 Crisis Hotline as well as provided ongoing crisis response training to the agency.
Carmen transitioned to the Director of Operations in Fall 2021 where she is working to improve and streamline operational services within the newly independent agency.  Carmen lives in Leander with her husband, their son and two rambunctious dogs.  When she is not at work you can find her spending time with her family, visiting nearby hill country vineyards or trying her hand at home improvement projects.